.....


.

First appearing in DC's awesome "tryout" comic, SHOWCASE, the SEA DEVILS were soon awarded their own comic. These covers alone-- by comic art master Russ Heath-- provide reason for their popularity.
DC's Silver Age Engine Roars On

SHOWCASE
#27

SHOWCASE
#28

SHOWCASE
#29

.

The SEA DEVILS were part of the "second phase" of DC's incredible Silver Age. The Silver Age of Comics began with SHOWCASE #4, which introduced the new Flash. Marvel Comics began its Silver Age incarnation with the FANTASTIC FOUR #1. But DC continued its own revitalization well into the 60's, exploring many different genres, while Marvel (with a few notable exceptions) concentrated mainly on super-heroes. The art on SEA DEVILS, provided by the great Russ Heath, was one of the book's biggest attractions. His innovative use of the gray wash technique made the covers especially beautiful.

.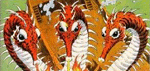 .

SEA DEVILS
#1

SEA DEVILS
#2

SEA DEVILS
#3

SEA DEVILS
#4

SEA DEVILS
#5

SEA DEVILS
#6