.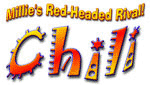 ---
Art by Stan Goldberg.
Written & Edited by Stan Lee.
Millie's Red-Headed Rival Gets Her Own Comic At Last!
Since the debut of Millie the Model in 1945, Chili Storm has been Millie's fiercest competitor, and usually her closest friend, trading quips and exchanging witty barbs, just the kind of trademark smart-remarks that Stan Lee was known for. Yep, the same wise-cracking humor you'd find in the latest issue of a Lee/Ditko, or Lee/Romita Spider-Man, you'd find in any issue of Millie the Model or Chili.
.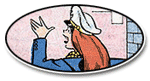 ---
.

May, 1969 - March, 1970
CHILI
#1

CHILI
#2

CHILI
#3

CHILI
#4

CHILI
#5

CHILI
#6

CHILI
#7

CHILI
#8

CHILI
#9

CHILI
#10

CHILI
#11

CHILI
#12