.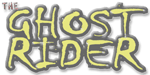 ---
A Phantom of the Western Night!
For those who only know the Ghost Rider as a demon- possessed biker, the fact that he started out as a Western hero might come as a suprise, but the fact that he originally began in 1950 really takes the cake.
The original GHOST RIDER series ran from 1950-1954.
The character returned as part of Marvel Comics mid-1960's expansion. The series featured new stories with art by Dick Ayers, backed up with Kid Colt reprints in the first six issues.
---
.

Said to be inspired by the Vaughn Monroe song "Ghost Riders in the Sky,"
the original 1950's GHOST RIDER title ran 14 issues, but was also numbered as part of the A-1 COMICS series from Magazine Entertainment. Many of its covers featured art by the legendary Frank Frazetta.

Ghost Rider
Volume I, #10

Ghost Rider
Volume II, #1

Ghost Rider
Volume II, #2

Ghost Rider
Volume II, #3

Ghost Rider
Volume II, #4

Ghost Rider
Volume II, #5

Ghost Rider
Volume II, #6

Ghost Rider
Volume II, #7